We are finally getting back to a state of normalcy, so the experts say. Some are going back to their offices, others are getting back to their busy business travel schedules, while others have found that productivity has not been negatively affected by being remote and have made the decision to stay that way. One of the things people have enjoyed about working from home is having more time with their pets. Over the past two years, pet adoptions have increased tremendously for a litany of reasons. Some people were alone and needed companionship while others finally had the time to train their new furry family member. For whatever their reasoning, statistically speaking, owning a pet has many benefits. Studies have shown that people who own pets (particularly dogs) are more empathetic, more productive, healthier, more active, handle stressful situations better and are overall happier; it's also good for the heart. To be a pet owner (excluding pet rocks), you have to be responsible. It comes as no surprise (to me anyway) that dogs are often used as therapy pets for those undergoing serious illness or suffering from PTSD. While pets are not as demanding as a newborn, and you won't get arrested for leaving them home alone while you go grocery shopping or out to dinner, you are still responsible for them.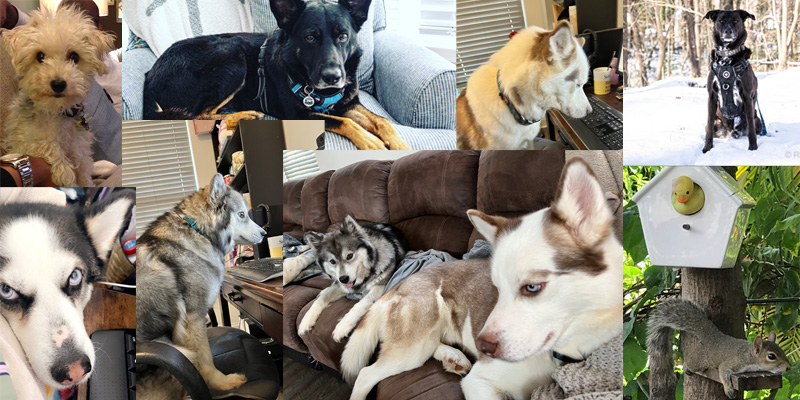 I personally have two dogs; one I rescued seven years ago, Marlin (Lab/Shepherd mix), and the other, Cappy (German Shepherd,) was abandoned, so I went to Oklahoma last fall and adopted him. They require a lot of exercise, which kept me active when the gyms were closed and stopped me from eating my way through the pandemic. I take them everywhere, including dinner, vacation and running errands. Not only are they great companions; I also feel completely safe when they are with me and they force me to walk 10k steps a day. Romeo's dog, Bilbo, is his number-one child according to his two human children. I don't think there is anywhere in the country where Bilbo hasn't been. Bilbo actually looks like Romeo. Shannon's two pups, Denali and Amara, keep her on her toes and may or may not have helped her process your year end ACAs. Corey's kitty, Maggie, is always by her side making sure that every client she works with has a Purrrfect payroll. Erica's sweet husky, Luna, is full of energy and is one of the reasons Erica is so alert for our clients. Rex provides Charlene a lot of comfort and sits on her lap while she is helping her clients get onboarded. Last but not least, there's Pretzel the squirrel; really. Holly built a house and a picnic table for him and although he lives outside, she loves the little guy. There are too many to feature in this newsletter, but don't worry, there will be more in months to come.
While our pets don't actually process your payroll, they are a huge source of comfort and force us to get up and at em' early each day. We are every bit as dedicated to our clients as we are our pets.
-Rhonda Bunker